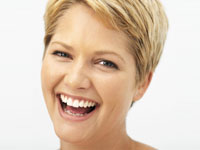 If you're looking for cosmetic dentistry in Claremont, you can rely on Richard McCloskey, D.D.S.. He will explain the variety of options available to you today. Ask us about veneers and teeth whitening and how we can maximize your dental insurance.
If you feel uncomfortable about problem teeth, then porcelain dental crowns, natural-looking veneers or a variety of leading-edge cosmetic techniques may be a good solution. Our professional team will design a personal plan to transform your teeth.
You can schedule a convenient time for Claremont cosmetic dentistry by calling our helpful staff at (909) 621-4862 or by completing our easy online form. At Richard McCloskey, D.D.S. we're dedicated to designing and delivering dazzling teeth and a beautiful smile.